Post by Deleted on Dec 11, 2016 2:00:36 GMT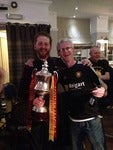 If the fans were to do what the players done today and decided oh I can't be bothered showing up for this game then we would really be in some state,that performance today was disjointed unprofessional and quite frankly an embarrassment and if that is acceptable to the manager then his time is well and truly up. This team is badly underperforming quite frequently now and if they are not in a playoff place at the end of the season then he will carry the can . How we can go to places like Livingston and play them of the park away then go to a fair Queens Park team and turn in such a crap performance like that is unacceptable in my mind and all this nonsense about over achieving is not something I accept anymore ,we are not over achieving we are underperforming inconsistent and today was about as low as it's got so far, next week is now a must win in my mind no,excuses Stenhousemuir are a poor team ,and I know they got a result today but Airdrie have clearly had an of day happens from time to time,but if you don't put the effort in on the park ,are second to every ball and stand so far back from any team like we were today then you will be in big trouble.Three points next week or I will be questioning the managers ability to motivate and organise the team.
Cannot believe that you claim to be an Albion Rovers supporter "Nick". Go back to your Rangers/Celtic(we win every other week) mode!! Don't bother turning up at Ochilview next week as we can do without "supporters" like you. You are talking utter tripe.
Todays performance was very very poor to say the least and as much as i would distance myself from nicks statement i will say hes a paying customer and has the right of an opinion,,or do we all have to go with protocol to maintain our social media status? see no evil,speak no evil,hear no evil.
It seems i have put a few noses out of joint with recent opinions,,ive never intended to cause a riff as we are all here for the same cause,,but if anyone feels ive personally attacked them then they are more than welcome to approach me at any game and question my comments rather than go behind my back stephen,,cheers guys
mfrsc